Newsletter
---
The Two Red Roses Foundation owns a large collection of American Arts and Crafts era woodblock prints produced by the most important artists of the day. A selection of these prints was exhibited at the Leepa-Rattner Museum of Art from November 2008 to January 2009 and was accompanied by an exhibition catalog, "Color Woodblock Prints" by Susan Montgomery. The catalog is available on the Foundation's webpage as well as on eBay. Since then, the Foundation has acquired over forty additional woodblock prints and has commissioned noted author Susan Futterman to write the sixth in a series of TRRF collection catalogs. The introductory essay to the catalog will be followed by extended reviews of twenty selected prints. All 120 woodblocks in the collection will be illustrated and cataloged. The book is expected to be available in the summer of 2016. The two most recent acquisitions are presented in this newsletter.
Bertha Lum, "Fox Women" 1907; color woodcut; 12-11/16" x 8-3/8"; numbered 62 in lower right; printed on fine Japanese paper.
The TRRF was delighted when a rare woodblock print by Bertha Lum became available. Printed in 1907 and named Fox Women (Gravalos/Pulin 12), this print was exhibited the same year at the prestigious Art Institute of Chicago's "Sixth Annual Exhibition Of Original Designs for Decorations and Examples of Art Crafts". In May of 1912 the same print was entered in the 10th exhibition of the Taiheiyo-gakai (Pacific Group of Western-style Painting). On the back of the mount, in addition to the artists' label, there was a small typewritten poem named "Fox Women". The poem reads as follows: "Goblin foxes have the power to deceive the people by enchantment the favorite shape assumed for the purpose of deluding mankind is that of a beautiful woman. Innumerable are the stories told about the wiles of the fox women. They haunt solitary places and at night swing ghostly lanterns". Our research found that the text had been written by Lafcadio Hearn, who also produced "Glimpses of Unfamiliar Japan: Kitsune" where many references to Kitsune are found.

Kitsune is the Japanese word for "fox". Foxes are a common subject of Japanese folklore. Stories depict them as intelligent beings and as possessing magical abilities that increase with their age and wisdom. Foremost among these is the ability to assume human form. While some folktales speak of kitsune employing this ability to trick others - as foxes in folklore often do - other stories portray them as faithful guardians, friends, lovers, and wives.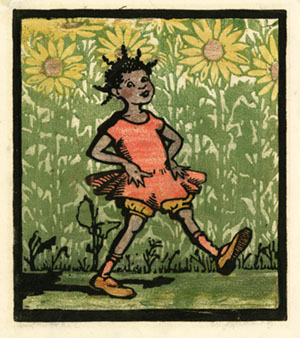 Frances Gearhart "Sunflower Sue", color wood cut, c. 1928, 8" x 7".
In 1929 Frances, May, and Edna Gearhart collaborated on and produced 25 multicolored woodblock prints assembled for the purpose of publishing an illustrated children's book. The planned work, entitled "Let's Play" complete with its original linoleum cuts also came with playful poetic verses but, unfortunately, was never published. Eighty years later the Book Club of California has now brought the first edition of this charming work into publication. The Two Red Roses Foundation, adding to its woodblock collection, owns twelve of these woodcuts and is actively seeking to acquire the remaining thirteen (See list). We welcome anyone who may have information on the owners or location of any of these prints to feel free to contact us. Of particular interest in the group owed by TRRF is "Sunflower Sue" pictured above. It is unique for its very rare portrayal of a young African American schoolgirl and utilizes colorful sunflowers as its backdrop. The accompanying poem speaks to the timeless universal dreams and life of all children.
---
For nearly 4 years scholar and author Susan Montgomery has been preparing a catalog of the Two Red Roses Foundation's tiles and architectural faience. A recent trip to the west coast gave Ms. Montgomery the unique opportunity to promote the Foundation's collection.
The catalog entitled, "The Endless Possibilities: Arts and Crafts Tiles from the Two Red Roses Foundation", was the subject of two presentations. The first hosted by the Alameda Architectural Preservation Society near Berkeley, California on November 16th found an enthusiastic audience of preservationists, scholars, collectors, dealers and contemporary tile makers. On November 19th she moved on to Seattle, Washington, where Historic Seattle sponsored a lecture at the Frye Art Museum. Arts & Crafts tiles are especially plentiful in Seattle where many important homes were built with Rookwood, Grueby, Mercer and Batchelder tiles during the first two decades of the twentieth century. Using an extraordinary Grueby tile panel owned by TRRF entitled "St. Louis", Ms. Montgomery was able to connect TRRF's collection directly to the local audience by showing an archival photograph of the panel taken in the showroom of Seattle dealer William Kellogg in 1910.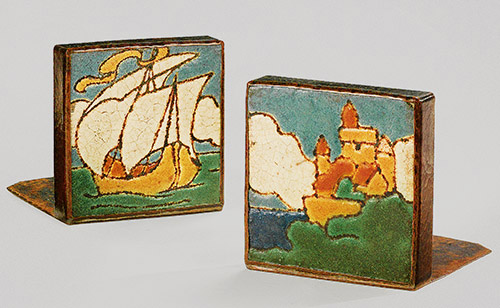 Copper Bookends by Dirk van Erp with Grueby Tiles, designed by Addison B. LeBoutillier, c. 1910–1911
While in Berkeley, Montgomery was also able to visit California Historical Design's Dirk van Erp Exhibition where TRRF lent a pair of rare copper bookends with inset Grueby tiles. According to Sotheby's, they are the only known collaboration between van Erp, D'arcy Gaw, and Grueby. In the exhibition catalog "Bay Area Copper, 1900–1915: Dirk van Erp and His Influence," Gus Bostrom documents the joint signature mark to February 1910 through the end of January 1911. These Grueby Faience Company tiles are not commonly found. The landscape tile is part of a series designed by Addison B. LeBoutillier before 1906, many of which are in the TRRF collection. Grueby Faience produced many different ship designs on tiles, but this fanciful little boat is unusual.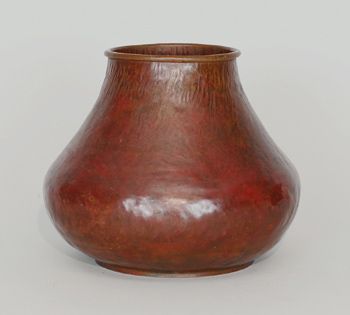 Hammered copper vase by Dirk van Erp, c. 1915–1920, 8" h. x 9 ½" dia.
The second object lent to the exhibition is a Dirk van Erp hand-hammered copper bulbous vase with an unusually rich red patina on a "warty" surface. This particular vase was exhibited in "Reflections: Arts and Crafts Metalwork in England and the United States; Kurland-Zabar, New York 1990" and shown on page 50 of the exhibition catalog. The Dirk van Erp exhibition runs through December 13th.
A second exhibition of van Erp's work is currently on view in the Bay Area. Isak Lindenauer has mounted "Dirk van Erp: Coppershop" at his gallery on 19th Street in San Francisco. Visitors will get another opportunity to see work by both Dirk and William van Erp there until December 14th.
---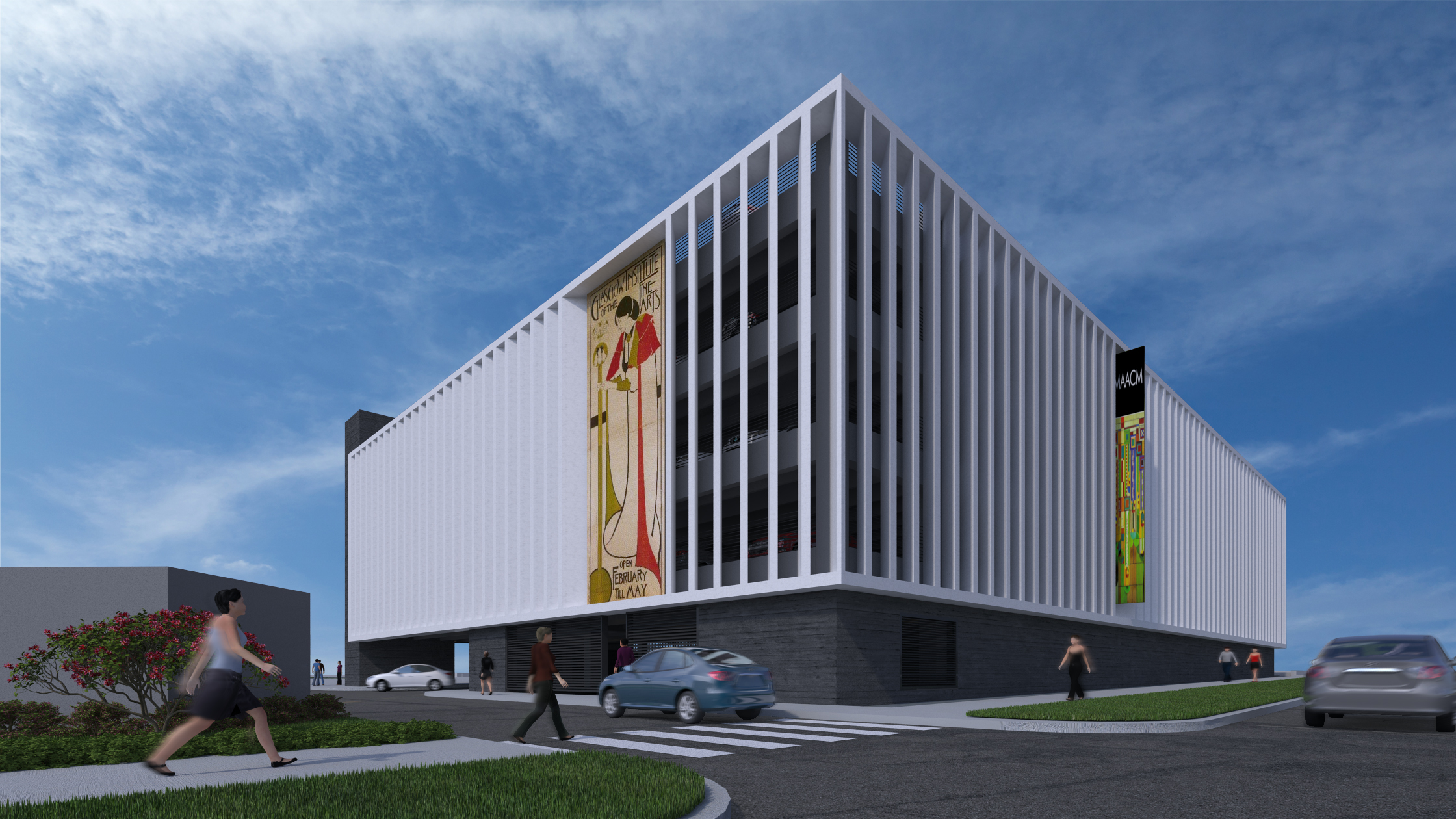 The first priority, the building of a 5 level parking garage providing 300 covered parking spaces for museum patrons, museum store, café and restaurant customers, is shovel ready with construction set to begin in the next several weeks. Since the garage will connect to the museum its design was given significant attention. The Foundation directed Alfonso Architects that this was not to be just an ordinary parking garage. Alfonso did not disappoint. Given a substantial budget to work with and using a variety of materials and special lighting, the bold design of the garage including the use of exterior "fins" and stainless steel "mesh" create a stunning visual effect and strike a perfect symmetry with the museum. Construction is estimated to take approximately eight months. The museum's exterior and interior space designs are well underway with construction planned to coincide with the completion of the garage.
---
The Two Red Roses Foundation's furniture catalog So Various Are The Forms It Assumes, Arts and Crafts Furniture From The Collection of the Two Red Roses Foundation is now available for sale. This is the second in a series of six catalogs devoted to the TRRF's collection of Arts and Crafts objects. Nearly four years in the making this furniture catalog is a combined effort of noted author David Cathers, generally regarded as the foremost authority on Gustav Stickley and Mission furniture in the U.S., Arts and Crafts scholar Susan Montgomery, Alex Vertikoff, renowned photographer whose images of Arts and Crafts homes and interiors have appeared in books and magazines dedicated to the period, and Marquand Books a recognized leader in the production of museum art manuscripts and catalogs. The book retails for $60 and is available exclusively from eBay and on our website.
---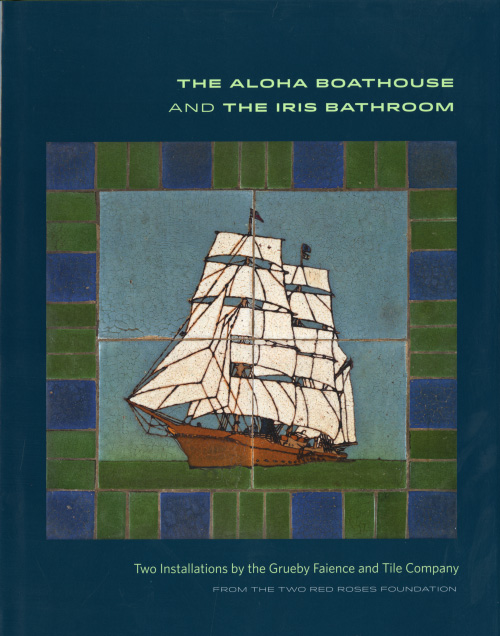 For information on other publications by TRRF, including Arts and Crafts Metalwork from the Collection of the Two Red Roses Foundation, by David Cathers and Jonathan Clancy, and The Aloha Boathouse and Iris Bathroom, by Susan Montgomery, please visit our Book Store. You may also browse through the selection of used Arts and Crafts books by clicking here.
All the books offered through our bookstore are available for purchase on eBay for those who prefer to use this platform. In addition, on eBay, we sell magazines and auction catalogs not available on our webpage.
We do not process credit card payments. You may use Paypal (who will process your credit card payment even without a Paypal account), or simply mail a check to our address. Once received we will ship your purchase promptly.