Newsletter
---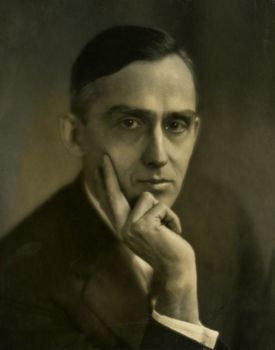 The Two Red Roses Foundation is most fortunate to have received a significant donation of archival and personal papers, letters, business and technical notes, books, periodicals, photographs, catalogs, bulletins, pencil sketches and watercolors belonging to Arthur E. Baggs (1886-1947), widely recognized as a leader of the American Arts and Crafts movement's regard for and the growth and popularity of pottery and ceramics.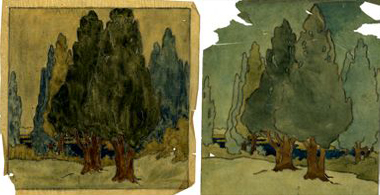 As a talented but inexperienced 18-year-old studen, Baggs was hired by Dr. Herbert J. Hall in 1905 to teach pottery at a Marblehead, Massachusetts, sanitarium for patients with nervous exhaustion. Baggs's pottery classes were part of an innovative craft therapy program Hall called the Handcraft Shops. What began as a summer job evolved into a full-time career as Baggs's talent and dedication to the shop were recognized. By 1907 "Marblehead Pottery," as it came to be known, was accepted in important Arts and Crafts exhibition in Boston, New York and Chicago. Then, as now, major examples of Marblehead Pottery were highly regarded.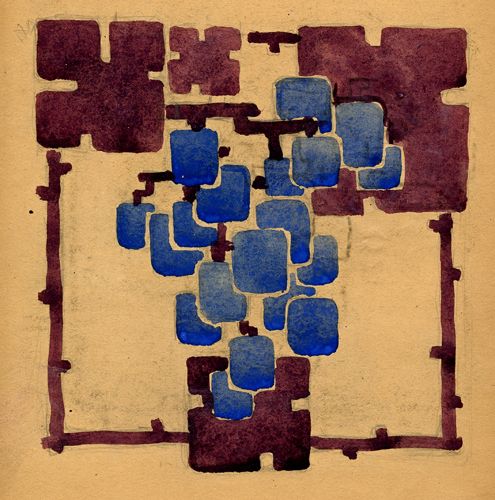 This priceless collection of archival materials spanning more than 3 decades is the generous gift of Mr. Baggs' granddaughters, Ms. Laura Bretas and her sister, Sarah Saleh to whom the Two Red Roses Foundation is forever grateful. This large and varied assemblage of materials was painstakingly organized for the Baggs family by Ms. Susan Montgomery, Ph.D., in Massachusetts and then delivered to Rago's Auctions in Lambertville, NJ. The auction house selected some of this archival material, primarily drawings and watercolors, to be auctioned off in their March 2008 sale. TRRF made a commitment to reunite the material being offered for sale with the rest of the archives and purchased at auction all these lots. The archives are now complete.
This archival material provides a dramatic backdrop for TRRF's outstanding collection of Marblehead ceramics which includes fourteen vases and more than a dozen tiles, many designed and executed by Baggs.
TRRF has begun the task of entering in the Library database all books, bulletins, catalogs, magazines and periodicals found in the archives. An ever-growing list of this material can already be found in our webpage. A professional librarian will catalog all other documents and personal papers, which will be made available to scholars and students once the Library of the Museum of the American Arts and Crafts Movement is open to the public.
---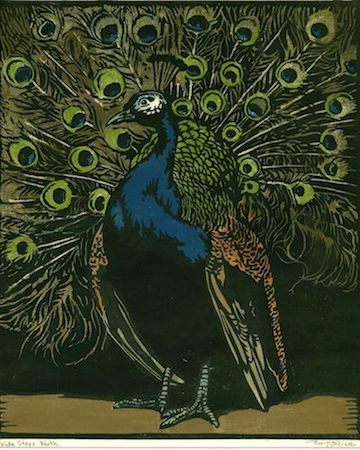 William Seltzer Rice, Pride Steps Forth, 1930.
We are pleased to announce that the Two Red Roses Foundation is participating in the exhibition "Strut: The Peacock and Beauty in Art" produced by the Hudson River Museum in Yonkers, NY. The exhibit runs from October 11, 2014 to January 18, 2015. The TRRF has loaned a beautiful woodblock by William Seltzer Rice that portrays a stunning and colorful peacock.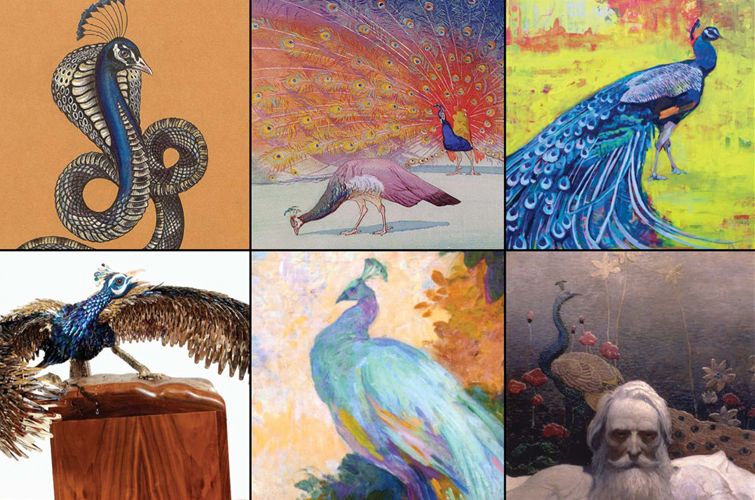 Top row: James Prosek, Peacock and Cobra, 2013; William Giles, Sic Transit Gloria, c. 1924; Brian Stephens, Sing something here, 2014. Second Row: Laurel Roth Hope, La Reina, 2013; Vladimir Pavlovski, Peacocks, c. 1925; N.C. Wyeth, Captain Nemo, 1918.
Strut: The Peacock and Beauty in Art explores our fascination with this most glamorous of birds, a symbol of vainglory and the darling of designers and painters. Strutting in its sapphire-blue and emerald-green feathers, the peacock symbolizes all things vain and beautiful in centuries of painting, sculpture, in books and myth, and on clothes that swirl and shine like the iridescent bird itself. Intrigued by the exotic art of Asia that prized and portrayed the peacock, Western artists and craftsmen chose the peacock as a multi-faceted motif for designs on canvas and for objets d'art in the home.
The Hudson River Museum presents Strut: The Peacock and Beauty in Art from October 11, 2014 through January 18, 2015. Organized by the Museum, it is the first scholarly survey of the peacock in art. Paintings and decorative objects for the home present concepts of beauty symbolized by the luxurious bird and its famous fan of feathers from the 19th-century's Gilded Age and 1920s Art Nouveau and Art Deco until Modernism's ethos of "less is more" caused a brief decline in the peacock's popularity. As the contemporary art world re-embraces beauty in a new "Gilded Age", the peacock struts its way back into the art world.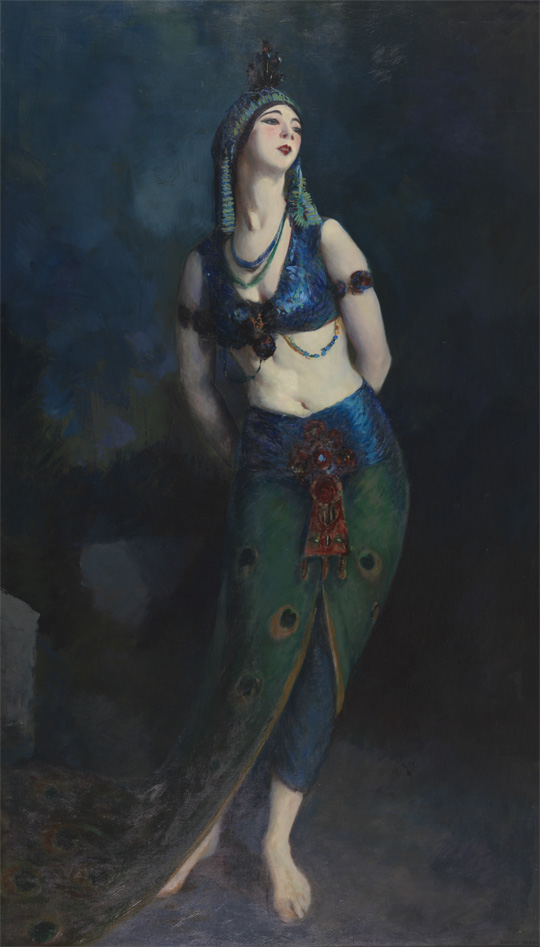 Robert Henri, Ruth St. Denis in the Peacock Dance, 1919.
Among the highlights of The Peacock in Beauty and Art are images of women bedecked in peacock feathers, such as Robert Henri's full-length portrait of Ruth St. Denis in the Peacock Dance, 1913, William Baxter Palmer Closson's Feeding the Peacocks, 1910 and Aubrey Beardsley's The Peacock Skirt, created for Oscar Wilde's Salome. The bird itself receives its own glamorous portraits in paintings like Louis Rhead's Peacocks, 1897, Jesse Arms, Botkes' Black Peacock, c. 1930, and sculptures like Anna Hyatt Huntington's Peacock's Fighting, 1914. Peacock feathers are extracted into beguiling geometric patterns in the lamps of Louis Comfort Tiffany and gilded Crown Derby porcelains. The peacock also appears to whimsical effect in parade costumes, pictures of Elvis, strutting peacock-style, and images of silent-era Hollywood starlets ready for their close-ups.
The peacock's origins as a bird of the Indian jungles comes to the fore in Charles R. Knight's (famed for his murals at the American Museum of Natural History) fearsome Bengal Tiger and Peacock, 1928. Contemporary artists show the peacock's gift of line - Laura Ball, Barbara Takenaga, and Federico Uribe find inspiration in the bird's striking feathers, brilliant coloration, and the sensuous s-curves of its body. Two Westchester based artists highlighted in the show are Tricia Wright from Irvington and Dillon Lundeen Goldschlag from Tarrytown.
The exhibition includes works from more than three dozen museums, galleries and private collections, including the Metropolitan Museum of Art, Smithsonian American Art Museum, the Pennsylvania Academy of Fine Arts, Yale Center for British Art, and the Two Red Roses Foundation.
---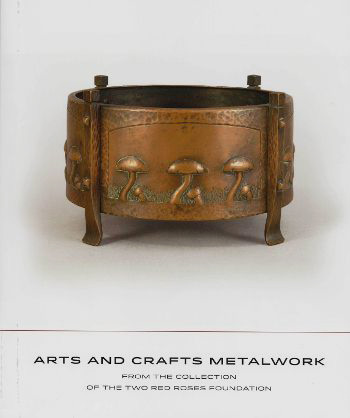 "Students, collectors, curators, and auctioneers will find the illustrated essays on Karl Kipp (The Tookay Shop), and the Roycrofters Shop particularly enlightening... This book, with it's up-to-date bibliography of books, catalogs, and vintage magazine articles is a good edition to any decorative arts library".
-- Lita Solis-Cohen, Maine Antique Digest, September 2014
You may purchase this manuscript as well as other exhibit catalogs and collection books from the Two Red Roses Foundation website or from

.
We do not process credit card payments. You may utilize Paypal, who will process your credit card payment without having to hold a Paypal account, or simply mail a check to our address below and we'll be happy to ship your purchase promptly.