Newsletter
---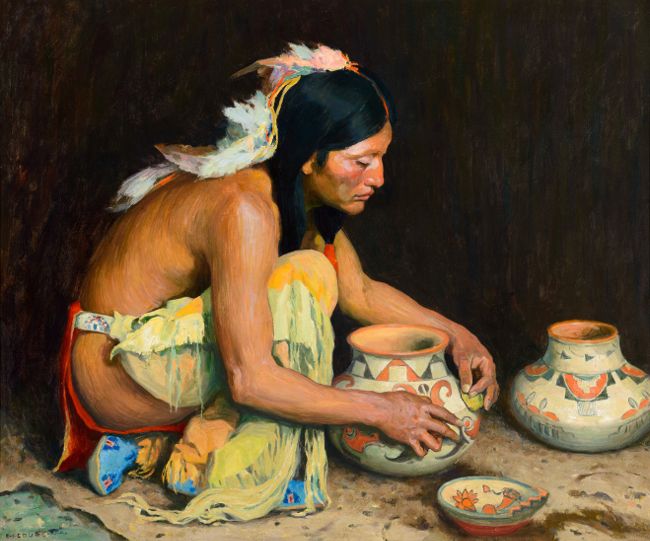 Eanger Irving Couse (1866-1936) was an American artist best known for his paintings of Native Americans many of which were created in the studio of his adopted home, Taos, New Mexico. He was born in Saginaw, Michigan and at a young age began drawing the Chippewa Indians near his home setting the foundation for his lifelong fascination with Native American Culture. He received his formal training at the Art Institute of Chicago and the National Academy of Design in New York City. He traveled to Paris where he studied at the renowned &Eacutecole des Beaux-Arts. He would live in Paris for 10 years perfecting his unique style of painting the human figure and landscapes and developing his interest in frames. His work became extremely popular and in 1911 he was elected to the National Academy of Design and in 1916 founded the Taos Society of Artists. It was there that he studied and painted the lives and cultures of the Taos Indians, a Pueblo tribe. His works are exhibited at the Metropolitan Museum of Art, The Smithsonian Institution, the Gilcrease Institute of Art, the Museum of New Mexico, the Two Red Roses Foundation among other public and private collection.
The Pottery Maker painted in 1923, depicts a Plains Indian, Jerry Mirabal of Taos Pueblo, in Couse's trademark kneeling pose. The model is adorning two polychrome vessels (ollas) typical of the pottery produced at San Ildefonso Pueblo around the turn of the nineteenth century. These two ollas can still be seen in situ at the Couse-Sharp Historic Site in Taos. It is clear from his many portrayals of Indians making or decorating pottery, painting on walls or on hides, or displaying their crafts, that Couse considered Indians to be exceptional artists. It is the beautiful form and decoration of the polychrome vessels that are the focus in this painting, making it a perfect example of Couse's admiration for the Indian and his art.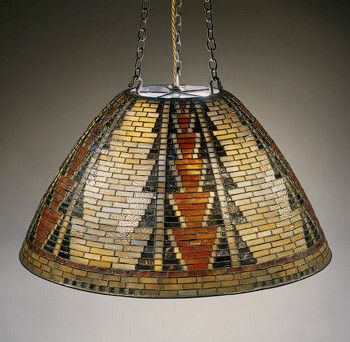 Throughout the American Arts and Crafts Movement an appreciation of Native American art developed as demonstrated by fashionable Indian-style baskets and textiles that were featured in numerous Arts and Crafts exhibitions and publications. Articles in Keramic Studio directed at professional and artistic potters included explicit directions for basket stiches and beadwork patterns based on Native American designs. The Craftsman published similar "how to" articles including patterns for adapting Native American designs for embroidery and wall decorations. Other articles explored the adaptation of Native traditions to modern architecture. The artist-designer Louis Comfort Tiffany designed leaded-glass shade made by his firm Tiffany Glass and Decorating Company around 1899. The shade displays zig-zag patterning featured on Native American baskets, which is reinforced by the bold colors of red, black, and yellow. This shade was designed to complement the large Lockwood de Forest's collection of Native American baskets and Pueblo Indian pottery. De Forest was an American painter, interior designer and furniture designer responsible for introducing the East Indian craft revival to Gilded Age America.
The Two Red Roses Foundation is pleased to add this important painting to its growing fine art collection where it joins another Couse masterwork entitled Camp at Night, made in 1923 in a Couse-designed Taos Arts & Crafts frame.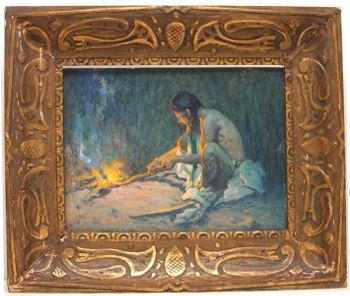 "Camp At Night"
1923
Eanger Irving Couse
This frame is significant to the present work and reflects the Arts and Crafts philosophy of beautiful utility. The concepts of unity of the painting and its frame and the connection of the image to its presentation were fully embraced by Couse. He believed so strongly in these concepts that he designed his own frames. These elegant frames, designed with highly-stylized motifs likely derived from Southwestern Indian pottery and other artifacts he collected, were fabricated in New York by Henry Schultheis and later by L. Vigor. Couse realized the power of a frame to convey a sophisticated message and remained sensitive to framing throughout his life. For a complete discussion about Arts and Crafts and Taos frames refer to "The Gilded Edge: The Art of the Frame", Eli Wilner, Chronicle Books, San Francisco, 2000.
---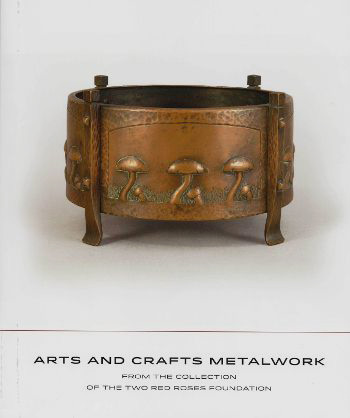 Just another reminder that you can access our webpage to purchase exhibit and collection catalogs published by the Two Red Roses Foundation. The lastest release is the Metalwork Collection Catalog. See what some readers are saying about this book:

"I recently purchased These Humbler Metals: Arts and Crafts Metalwork from the Collection of Two Red Roses Foundation and I'm writing to tell you what a terrific book it is! As a collector of A&C metalwork I'm having a great time pouring over this tome. Bravo!" - J.H., Ohio

"I just received in the mail the book on Arts and Crafts Metal published by the Two Red Roses Foundation which I recently ordered. I just want to say it's a really beautiful book and a welcome addition to my library" - E.K., N.Y.
ISBN: 9780615988696 - 274 pages - Dimensions: 9" x 12". Purchase this book on our webpage store or on ebay