Newsletter
---
The Foundation is pleased to announce the addition of two important and rare Niedecken acquisitions: The table lamp from the Irving House and a Frank Lloyd Wright designed desk from the Bresler House.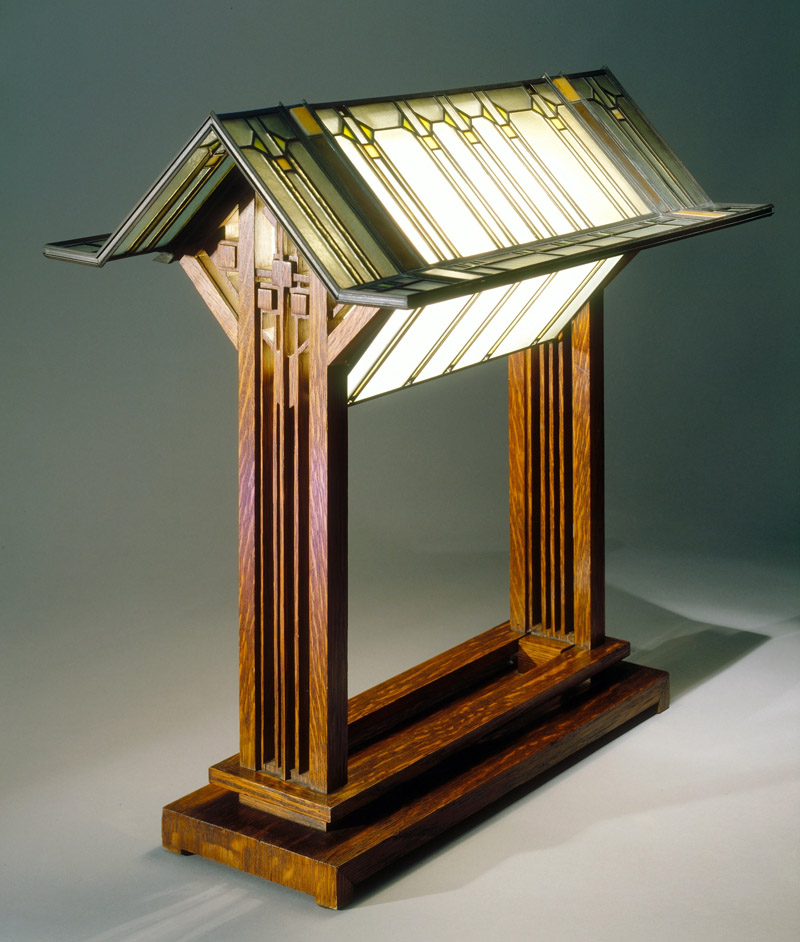 The table lamp from the Edward P. Irving house, designed by George Mann Niedecken and manufactured by the Niedecken-Walbridge Company of Milwaukee, Wisconsin, is made from quarter sawn white oak, colored glass, and copper, measuring 24" high by 23 ½" long by 15" wide.
This is how David Cathers describes the lamp in the upcoming Arts & Crafts Lighting from the Collection of the Two Red Roses Foundation:
"An architectonic form with a footed, two-part rectangular oak base resting on mitered feet, and paired, spindle-shaped oak standards decorated at the top with sawn oak squares and triangles silhouetted against translucent white glass panels. These geometric motifs are restated in the fixture's glass shade. Translucent, roof-like geometric leaded glass shade flanked by opaque leaded glass flanges; the stained glass has a hammered texture and some of the rectangular glass tiles are of double thickness. To diffuse and soften the light, the underside of the shade is enclosed within V-shaped leaded panels of translucent glass - repeating the "roof" profile in inverted form".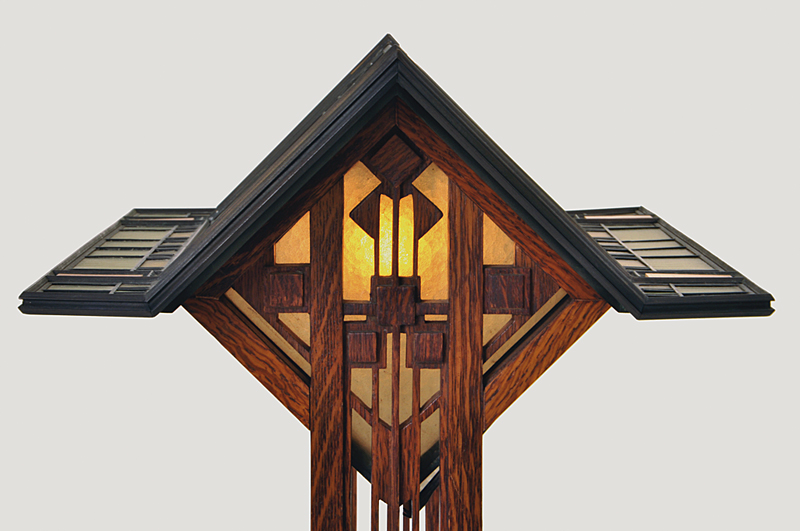 This lamp has been displayed in a number of museums including the seminal exhibition International Arts and Crafts. Anchored at the Indianapolis Museum of Art, it traveled to the de Young - Fine Arts Museum of San Francisco and ended at the Victoria and Albert Museum in London. The lamp is also illustrated in The Western Architect (April 1913), Cheryl Robertson's Frank Lloyd Wright and George Mann Niedecken - Prairie School Collaborators (1999), p. 46 and in Karen Livingstone and Linda Parrys International Arts and Crafts (London: V & A Publications, 2005), p. 180.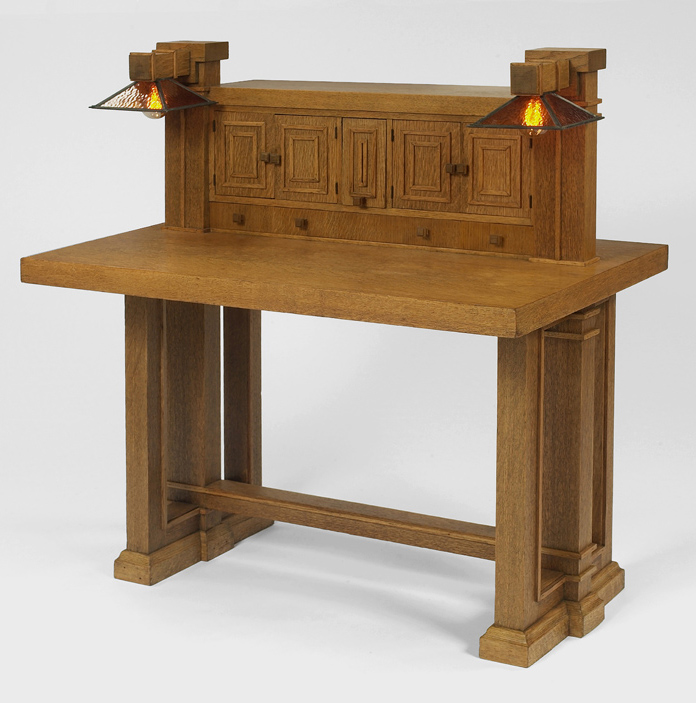 Another important Niedecken aquisition is the Bresler Desk. This desk is an exact vintage replica (1908-1910) of the Frank Lloyd Wright desk designed, in collaboration with George Niedecken, for the Coonley House (see drawing below). This desk is currently in the collection of the Art Institute of Chicago. We are not sure who built the Bresler desk in our collection, but we know that Frank Bresler owned the F.H. Bresler Company, which made furniture for the Niedecken-Walbridge Company, and was also a minority stockholder in the latter firm. We speculate that Bresler liked the Coonley House desk design (he may have actually built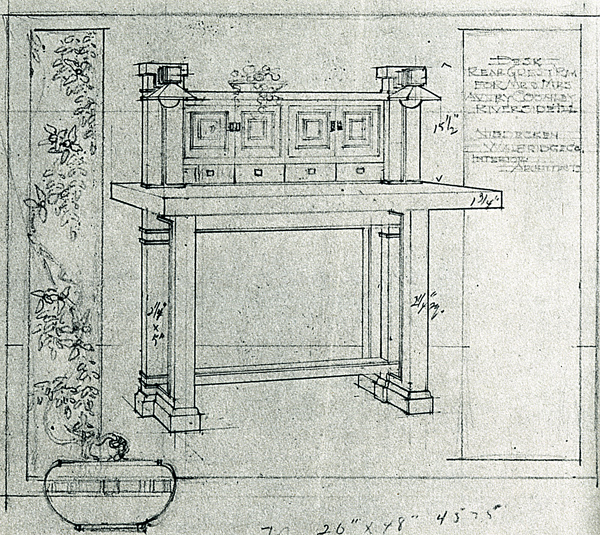 it) and decided to make or have one made for his own house. Because we did not have the opportunity to review the extensive Niedecken collection of design drawings, documents, and other office records residing in the Milwaukee Art Museum Archives, we welcome input from any reader that may shed more light on the actual maker of the Bresler Desk.
George Mann Niedecken (1871-1945), while recognized as a significant Prairie School and Art Nouveau craftsman, was also skilled in the art of designing furniture, stained glass, lighting, tapestries, murals, and other furnishings. Born in Milwaukee, Wisconsin in 1871 he studied art at the Art Institute of Chicago, Berlin and in 1899 left for Paris to study at the Ecole-des-Beaux Arts working with Alphonse Mucha and being exposed to Art Nouveau. He may be best known for his collaborations with renowned American architect Frank Lloyd Wright between 1903 and 1918. These include the famed Avery Cooney and Frederick Robie homes built in the Chicago area between 1907-1910. Niedecken shared Wright's familiarity with developments in European design and the commitment to simplicity, honest materials, and decorations derived from nature.
---
Pierre Dubreuil (1872-1944) - Petite place de province, Huile, 1908. Oil print mounted three times on boards; signed with monogram in pencil lower left on the image. 9 ½" x 7 7/8" (image)
In its continuing mission to provide a historical record on all aspects of the collection, TRRF has commissioned noted early 20th century photography scholar Christian A. Peterson to produce a manuscript that chronicles its photography collection.
Peterson, a former Photography Curator for the Minneapolis Institute of the Arts, has written numerous books on photography and photographers from the early 20th century. His expertise focuses on the Photo-Secessionist Movement and Pictorialism, an aesthetic style and movement both of which are at the center of TRRF's collection. Among Peterson's works are Alfred Stieglitz's Camera Notes, Pictorialism in America, The Quiet Landscapes of William B. Post, and After the Photo-Secession: American Pictorial Photography, 1910-1955.
Peterson brings his wealth of knowledge of photography from the period to TRRF's outstanding collection. The book will contain an extensive essay, individual photographers' profiles, and descriptions of many important rare and iconic photographs found in the collection. The book will also consider the relationship between pictorialist photography and the American Arts and Crafts Movement. The manuscript will be available in the Fall of 2016. For more information on the Foundation's photography collection please click here.
---
The TRRF has available for sale a group of books related to arts and crafts, architecture, design and photography. The foundation is not in the business of buying and selling books - we sell only the duplicates that accumulate in our library collection as donations are delivered. These books, as well as our six new collection catalogs we have published, are available on our website as well as ebay. Additionally, we also sell all our duplicate auction catalogs from Sotheby's, Christies, Rago Auctions, Toomey Galleries, Phillips, Skinner and others, but these catalogs are available only through ebay.
We would like to have, in our new and relatively small library, one of the best decorative arts book collection in America. While we make efforts to acquire entire collections, we rely on the generosity of our readers, no matter how small it is. Just recently, author Susan Montgomery, donated her entire collection of The Magazine Antiques. The museum library, as well as the entire museum, is set up as a public charity foundation and, by definition, belongs to the public.