Newsletter
---

Tampa Bay Hotel as pictured in an 1893 advertisement. Now the Henry B. Plant Museum.
The Two Red Roses Foundation is delighted to announce its support for an exhibition to be held at the Henry B. Plant Museum in Tampa, Florida by lending over 50 objects from its American Arts and Crafts extensive collection.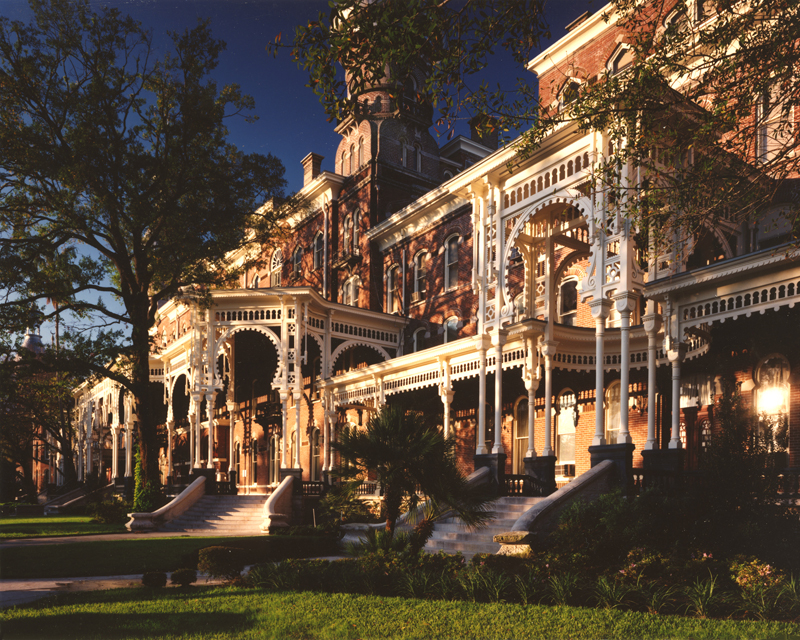 Henry B. Plant Museum's veranda featuring ornamental fretwork. Photo credit: George Cott/Chroma, Inc.
The elegant Henry B. Plant Museum, built in the late 1880's, was originally the grand and luxurious Tampa Bay Hotel. Residing on the beautiful campus of the University of Tampa, the museum is adorned with majestic towering minarets, while the interior rooms boast detailed woodwork, artifacts gathered from around the world, and exhibit spaces that remain much unchanged from the glory days. Constructed during the Gilded Age, the building reflects the opulence and inspiration of the great civilizations of the past. It is against this backdrop that an exhibition of objects from the American Arts and Crafts Movement will provide museum audiences with a stunning contrast in styles and philosophy. Below is a recent press release from the Henry B. Plant Museum.
Tampa, Florida (January 20, 2015) - The Henry B. Plant Museum is pleased to announce a new exhibit, Passionate Design: The American Arts & Crafts Movement. This exhibit brings together furniture, metalwork, block prints, pottery, and tiles made during the first two decades of the 20th century, a period of significant design reform throughout America. The artworks are lent by Rudy Ciccarello and his Two Red Roses Foundation in Palm Harbor, Florida, a pre-eminent collection of decorative and fine art from the Arts & Crafts era. Objects on display include works by American icons such as Gustav Stickley's Craftsman Workshops, the Grueby Faience Company, Rookwood Pottery, Louis Comfort Tiffany, and other makers. These objects provide insight into an international impulse to sweep away the past and create a modern style for the new century. Inspired by nature, designers and artists rejected formality in favor of celebrating the curve of a leaf, the clarity of wood grain, the simple joy of children at play. Heavy embellishment and gilded surfaces were replaced with clean lines, non-precious materials, and organic form and color. Function and fine craftsmanship became integral to aesthetic choice. And above all, the restorative power of a simple home environment was emphasized over conspicuous consumption.

The role of women during this reform era features prominently in the exhibition. Individual women artists, including Adelaide Alsop Robineau of Syracuse, Marie Zimmerman in New York City, and Pasadena's Frances Gearhart, are represented as well as the predominantly female shops at the Newcomb College Pottery in New Orleans and Boston's Saturday Evening Girls demonstrating the growing opportunities of women at the turn of the century to practice their art and make an independent living. An increasing number of skilled women, trained in art schools, staffed America's potteries and print studios, and brought their personal perspectives on children, social work, and education reform to bear on their work. Both men and women sought a new satisfaction in handcraftsmanship as makers and consumers, as meaningful work and emotional well-being became inextricably linked, and as the so-called "decorative" arts gained a new prestige.

Passionate Design: The American Arts & Crafts Movement opens on March 20th and runs through December 31, 2015. Entrance to the exhibit is included with admission to the Museum. Please join us on March 20th at 6:30 for a Guest Curator Talk by Dr. Susan Montgomery.
---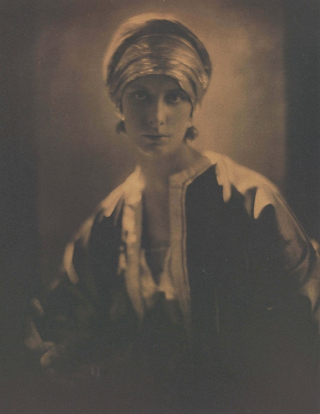 Baron Adolf de Meyer - Maria, A Study
The Two Red Roses Foundation is very pleased to have added to its photography collection the very rare and only extant platinum print Maria, A Study (shown right) by Baron Adolf de Meyer. The ca. 1910 print is 14 ¼ x 11 in., signed and marked "No. 7/201", and came in its original exhibition frame with "Chapman Bros. Picture Frame Makers, London" labeled on the reverse.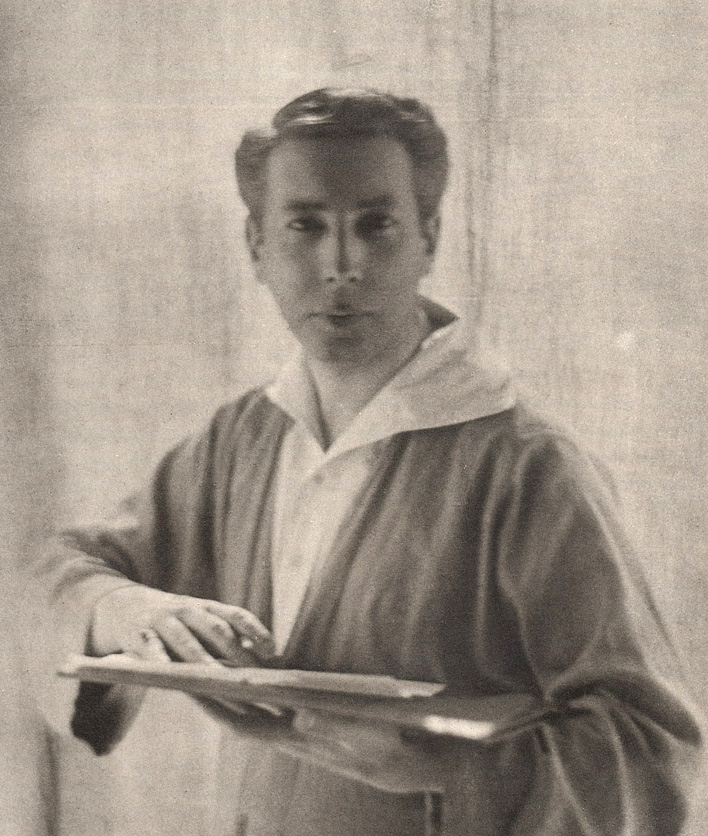 Baron Adolf de Meyer - Self Portrait
Baron Adolf de Meyer (1868-1946) spent his childhood in Paris and Germany and began to exhibit his photography when he was around twenty-six years old. In 1895 he relocated from Dresden to London, where he was admitted to the Royal Photographic Society and the Linked Ring. De Meyer became friends with Alfred Stieglitz, who published de Meyer's photographs in several issues of his publication Camera Work; eventually de Meyer joined Stieglitz's Photo-Secession Movement. In 1914, publisher Condé Nast hired de Meyer as the first full-time photographer at Vogue magazine and contracted him to work for Vanity Fair. In 1921, he left Nast to work for the William Randolph Hearst publication Harper's Bazaar in Paris, where he became the preeminent fashion photographer of the day. Here is a link to one of the best and most comprehensive articles on Baron de Meyer by E. Brown.
Maria, A Study, (pictured above right) was one of 25 photographs by de Meyer included in the landmark International Exhibition of Pictorial Photography held at the Albright Art Gallery in Buffalo, New York, in 1910. The print is housed in its original frame from that exhibition, with the original exhibition number affixed to its glass. Aside from twelve of de Meyer's photographs that were purchased after the exhibition by the Albright Art Gallery, very few of the show's prints, in their original frames, have been located.
The 1910 Buffalo exhibition was, as critic Sadakichi Hartmann wrote, "the most complete and comprehensive survey of pictorialism ever arranged in this country." Organized by Stieglitz, the International Exhibition of Pictorial Photography featured nearly 600 photographs. During its 29-day run, it drew over 15,000 visitors, breaking all of the Gallery's previous attendance records. By the end of the exhibition, no fewer than 53 prints had been sold to the public, including this print.
With 25 entries, de Meyer was one of the most represented photographers in the exhibition. Writing in American Photography, F. Austin Lidbury hailed de Meyer's "wonderful assortment of portraits and character studies… each carried out with an extraordinary mastery of tone, light, and texture… 'Maria, A Study' is invested with dramatic elegance, the intensity of the mode's gaze heightened by the bravura quality of the print. In its conception and execution, the photograph is quintessential Baron de Meyer."
Because de Meyer destroyed many of his prints and negatives, early examples of his work are very scarce. In a 1940 letter to Stieglitz, de Meyer despaired, "I have in 1935 destroyed all that was superfluous-it seemed to me a burden-all my photographic work especially". Maria, A Study was saved from this fate by Mrs. Samuel Strong Spaulding of Buffalo, who purchased it directly from the 1910 Albright Art Gallery exhibition.
The Two Red Roses Foundation owns fifteen of de Meyer's photogravures tipped-in in Stieglitz's Camera Work No. 40, three of which are shown below.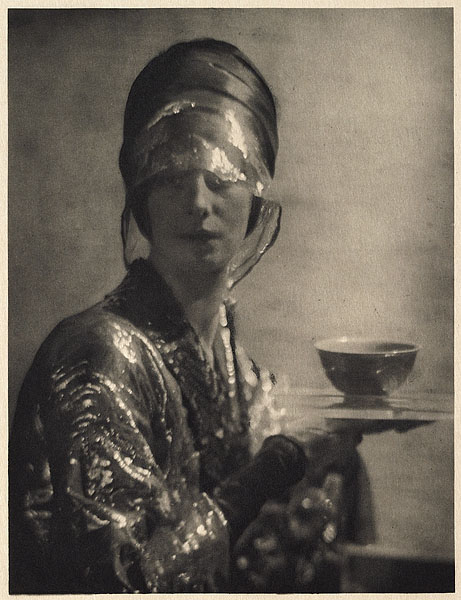 The Cup
1912, 8 ½ x 6 ½ in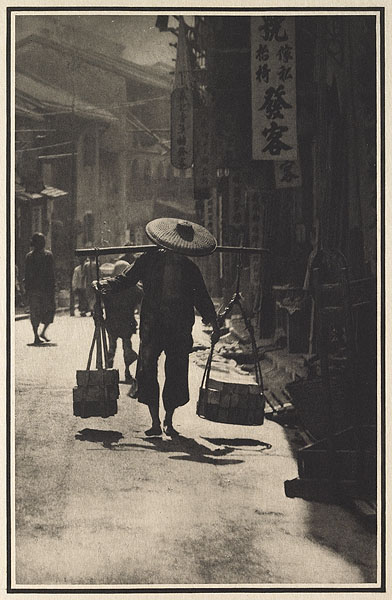 A Street in China
1912, 9 ¼ x 5 7/8 in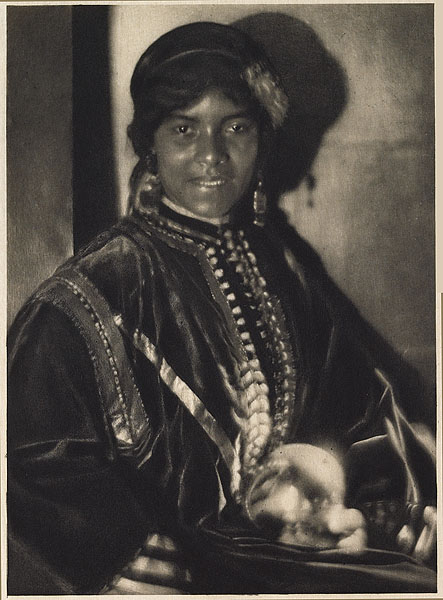 Aida
1912, 8 7/8 x 6 ¼ in
---
The Two Red Roses Foundation has developed a collection of books which specialize in Arts and Crafts, Decorative Arts, Design, Architecture, and Photography. If you, or someone you know, have a collection of books and catalogs that are overcrowding homes or offices and don't know what to do with them, the Foundation would love to have them. These books will be stored and on display in a beautifully designed library furnished with Stickley's bookcases, desks, library tables, Tiffany lamps and artwork. Your donation is tax deductible. We are also interested in acquiring entire collections. Give us a call at 1-(727)943-9900 for more information and become a friend of the library.
---
This year's conference is planned to be bigger and better than ever. With Workshops, Group Discussions, the Arts and Crafts Antique Show, Contemporary "Craftfirms" Show, and lectures, there is something for everyone. Please stop by our booth at the entrance of the Antique Show for our Book Signing event.
---
Arts and Crafts Furniture from the Two Red Roses Foundation
by David Cathers