Flagler Museum 'Spirit of Simplicity' exhibition recaptures Arts and Crafts movement
By Jan Sjostrom, Daily News Arts Editor
October 24, 2009
---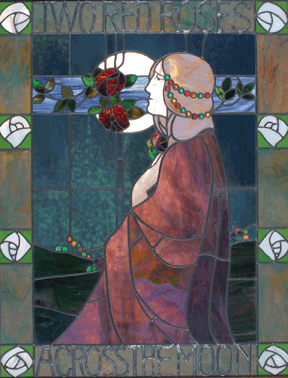 'Two Red Roses Window' by an unidentified maker (American); glass, leading. The piece is part of the show 'Spirit of Simplicity: American Arts and Crafts from the Two Red Roses Foundation,' on display through Jan. 3 at the Flagler Museum.
The Arts and Crafts movement was nothing if not idealistic. Its proponents believed in the dignity of labor and fancied that hand-made objects could transmit the well-being of the satisfied craftsman to the owners of the things they made.
The style, which flourished in the United States from about the 1880s to the start of World War I, is the favorite period of Rudy Ciccarello, a Palm Harbor-based pharmaceuticals magnate. Since 1997, he has amassed more than 1,000 American arts and crafts objects dating from 1900 to 1920, one of the largest personal collections of its kind in this country.
About 147 of the works from Ciccarello's collection are on view at the Flagler Museum in "A Spirit of Simplicity: American Arts and Crafts From the Two Red Roses Foundation."
The foundation, which Ciccarello founded to promote the appreciation of American arts and crafts, takes its name from a window made by an unknown craftsman and inspired by a poem by William Morris, one of the British architects of the movement.
The show, curated by Flager Chief Curator Tracy Kamerer and Arts and Crafts expert Martin Eidelberg, includes furniture, woodblock prints, stained glass, decorative tiles, pottery and metalwork by some of the movement's leading practitioners on this side of the Atlantic.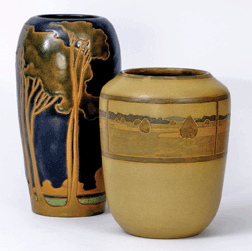 Rhead Pottery: a glazed earthenware vase with landscape, circa 1914-17, was designed and executed by Frederick Hurten Rhead (1880-1942). And Marblehead Potteries: a mat-glazed earthenware vase with landscape, circa 1909-10, was designed by Annie E. Aldrich (1857-1937) and executed probably by Sarah W. Tutt (1859-1947).
Bye, bye fussiness
The Arts and Crafts movement began in England as a reaction against the fussiness of Victorian taste and the industrial revolution's dehumanizing effect on workers. Its inspirations included Japanese woodblock prints and medieval art.
Forms were simplified, designs abstracted, palettes muted, and materials made plainer. Designers and craftsmen were to be elevated to the status of artists.
The aesthetic spread throughout the United States and embraced many media.
The Flagler show is installed according to media, with some areas devoted to important artists or designers, such as Gustav Stickley, Charles Rohlfs and Arthur Wesley Dow. Some pieces, such as a Stickley dining room tableau, are grouped into room settings.
Stickley was one of the most influential Americans in the movement. He's known mainly for the furniture his company produced - made of oak in solid, no-nonsense shapes, with fittings that showed hammer marks and exposed over-sized rivets to emphasize their hand-made quality.
Rohlfs was one of the movement's eccentrics. He embellished his furniture with elaborate carvings, such those on as an elongated side chair from around 1900. But beneath the decorations, the bones are pure Stickley, Eidelberg said.
Dow is represented mainly in the section devoted to woodblock prints. His many pupils included decorative artists, as well as fine artists such as Georgia O'Keeffe.
Nature remained an inspiration for Arts and Crafts designers, as is evident in the pastoral scenes, animals and plants that dominate their work.
'Interpretive'
But most subscribed to Dow's tenets that "art should not imitate reality, but be interpretive and reorganized into something beautiful," Eidelberg said.
Dow's principles are illustrated in works such as his print The Derelict (The Lost Boat), with its muted colors, serene mood and strong, simplified composition.
Arts and Crafts pottery was particularly prolific, and workshops sprang up all over the country.
One of the leading potters was William Grueby, whose matte green glazes and stylized vertical floral motifs were widely admired and copies.
Many Arts and Crafts leaders also promoted the movement's philosophy. Some published magazines touting the movement's ideas.
Dr. Herbert Hall attempted to put its curative principles to the test. Hall's Marblehead Potteries started as an arm of a mental-health sanatorium, where patients were supposed to benefit from the labor. But Hall soon turned the work over to professionals.
Loftier goals unfulfilled
The Arts and Crafts movement didn't achieve some of its loftier goals. Most of its workers labored in dead-end jobs and remained anonymous.
But the movement did leave its mark on the tastes of future generations. We esteem hand-made goods and respect designers today partly because of its influence, Eidelberg said.
"It worked, because nowadays we do appreciate things that are unadorned," Kamerer said. "It shaped our outlook and how we look at home furnishings."
IF YOU GO
What: 'A Spirit of Simplicity: American Arts and Crafts from the Two Red Roses Foundation'
When: Through Jan. 3
Where: Flagler Museum
Information: 1-561-655-2833 or see flaglermuseum.us