Museum of the American Arts and Crafts Movement
August 30, 2013
---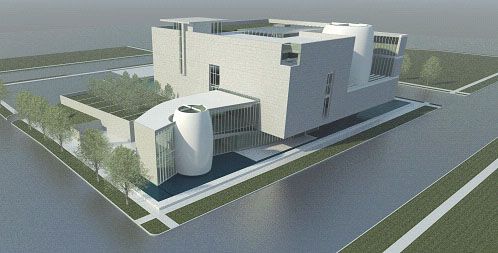 St. Petersburg, FL -- Rudy Ciccarello, founder of the Two Red Roses Foundation (TRRF), formally announces his long-anticipated plans for the construction of the Museum of the American Arts and Crafts Movement (MAACM), which will be the permanent home of the TRRF's extensive collection of American Arts and Crafts furniture, metalwork, lighting, ceramics, prints and other objects produced between 1900 and 1930.
The MAACM will be located in the thriving downtown arts district of St. Petersburg, Florida, close to the Craftsman-styled homes and bungalows of the historic Old Northeast and Kenwood neighborhoods. Situated on a 3.5 acre site, the museum will be housed in a three-story, 90,000-square-foot building designed by award-winning Tampa architect Alberto Alfonso.
In addition to dedicated gallery space for permanent and special exhibitions, the museum will include a lecture hall, a children's education center, a gift shop, a café, and a restaurant for casual dining and black-tie events. Of special interest will be a reference library and archives which will hold what the TRRF hopes to become a very comprehensive collection of books and catalogs dealing with the American Arts and Crafts Movement. Scholars and students will have access to a reading room as well as to an online catalog of the library's holdings.
Projected for completion in early 2016 the TRRF anticipates the MAACM will be a place of learning and enjoyment for the community as well as a destination for the millions of visitors that come to St. Petersburg every year.