William H. Grueby Bathroom Preserved
by Lita Solis-Cohen
August 2, 2005
---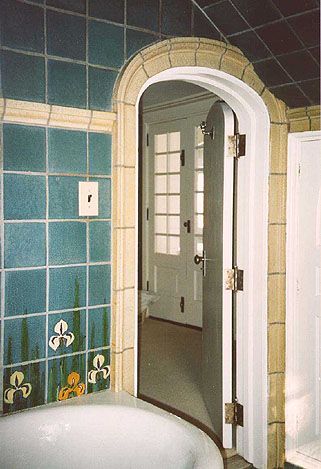 Cleveland, OH -- Collectors have rescued houses and period parlors, even staircases, but Rudy Ciccarello, a passionate Arts and Crafts collector, has rescued a bathroom from a lakefront mansion in Cleveland. Through his educational foundation, Two Red Roses Foundation, Tarpon Springs, Florida, he purchased a remarkable installation of 1200 matte-glazed Grueby tiles that transformed a small space, approximately 6' x 8' with a 7' ceiling, into a water garden with tall white, butterscotch, and pale yellow irises rising from beds of water lilies and with a summery blue sky overhead. The bathroom with its fixtures has been disassembled and shipped to Florida.
"It is a rare survivor," said Rudy Ciccarello in a phone interview. "The owners of the Cleveland house, John Gibbs and Jerry Ritola, admired the bathroom but didn't know what they had when they purchased the house in the mid 1990's," he said.
On a trip to San Francisco the two men happened into Isak Lindenauer's Arts and Crafts shop and recognized that the green glaze on a Grueby vase was similar to that on the tiles in their bathroom. Gibbs contacted independent scholar Susan J. Montgomery, who wrote the 1993 book The Ceramics of William H. Grueby: The Spirit of the New Idea in Artistic Handicraft. He learned from her that every surface of the room, even the ivory-colored moldings and door and window surrounds, was produced by the Grueby Faience Company of Boston and that the pond lily pattern was available by 1905 through the Grueby catalog. Montgomery also told Gibbs that another elaborate bathroom with irises and pond lilies in a tiled shower was photographed in 1914. Moreover, the pond lily design was used at the Scituate, Massachusetts, estate called Dreamwold in 1902 (those tiles were removed and sold in the marketplace in the 1980's).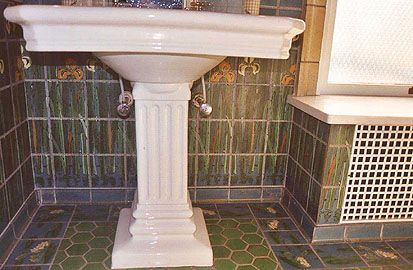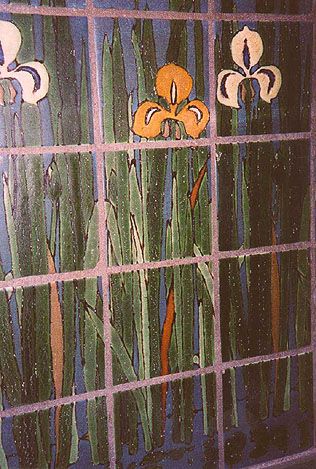 When Gibbs and Ritola decided to renovate their bathroom they contacted auctioneer and dealer David Rago of Lambertville, New Jersey, to find a purchaser for their bathroom. Rago offered the bathroom to Ciccarello. "I knew Rudy would in time make it available to the public," said Rago. Ciccarello said he hired Larry Mobley of Cohoctah, Michigan, to remove the hundreds of 6" x 6" tiles as well as the 3" hexagonal tiles that form a garden path between the lilies on the floor, the window and door moldings, and the porcelain sink, toilet, and bathtub. After conservation they will be reassembled in a museum in Florida that Ciccarello, a pharmaceutical wholesaler, is planning for his renowned collection.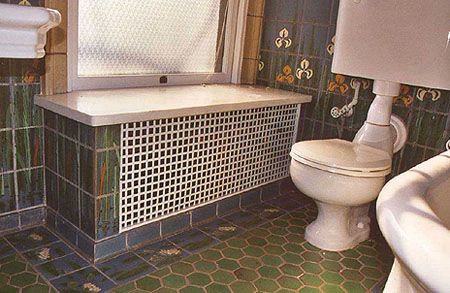 Since it was a private sale, not an auction, the price Ciccarello paid has not been disclosed. Those in the trade, however, said it must be well into six figures. When they were first available on the marketplace a grouping of Dreamwold tiles sold in the 1980's for as much as $100,000 for a frieze that is now in the Cooper-Hewitt, National Design Museum, New York City. As more tiles in a rare pattern become available the price inevitably drops, according to Philadelphia Arts and Crafts dealer Bob Berman, who said groups of Grueby tiles are a hot corner of the Arts and Crafts market now.
The preservation of the Grueby bathroom adds to the importance of Ciccarello's collection, which is one of the finest assemblages of Arts and Crafts furniture, lighting, and metalwork in the world.
2005 by Maine Antique Digest