Plans Unfold for Huge Art Museum in Downtown St. Petersburg
June 29, 2014
---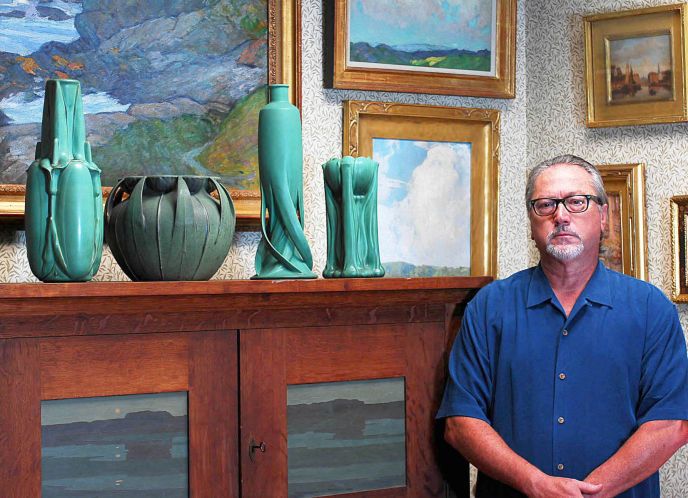 St. Petersburg, FL -- It was an astonishing announcement, made in November 2013, that for some reason didn't draw the astonishment it should have.
The Museum of the American Arts and Crafts Movement would rise on a downtown St. Petersburg site with a multimillion-dollar permanent collection in a four-story, 90,000-square-foot building designed at a cost of more than $35 million by Alfonso Architects of Tampa. It would also have a two-story parking garage.
Since that first announcement, collector Rudy Ciccarello, the museum's founder, has increased the size to a five-story museum with 110,000 square feet and a four-story, 300-car garage.
"We wanted to have enough space from the beginning," he said this month of the enlargement.
To put this museum's size in context: None of the three biggest Tampa Bay area art museums - the Dalí Museum, the Museum of Fine Arts, St. Petersburg and the Tampa Museum of Art - has more than 70,000 square feet. Gallery space at the new museum is expected to total more than 60,000 square feet. None of the three existing museums has more than 20,000.
To add to the astonishment, this museum, unlike most, doesn't have financial conditions attached to its creation, such as a fundraising campaign with a minimum goal or the expectation of public money.
There is no "if" for Ciccarello. Only "when."
He would love public and private participation, wants the museum to be embraced as part of the community and has looked into applying for a portion of bed-tax money that will become available, as well as grants.
But he's a wealthy man and, in the end, "it will happen," he says, on 3.5 acres, part of the Synovus Bank site between Third and Fourth streets N and Third and Fourth avenues N, which is now a parking lot. The museum is expected to open in 2017 after about two years of construction. The garage must be built first since it will provide parking both for the bank and the museum. Construction on the garage, Ciccarello says, should begin "in two to seven months."
"This is certainly the first Arts and Crafts movement museum in the U.S. on this scale... That alone makes it a singular project. It is also rare for new museums of any kind - particularly of this size and scope - to be created in the U.S. these days," says Dewey Blanton, director of strategic communications at the American Alliance of Museums, an organization in Washington, D.C., that has a membership of several thousand museums of all kinds, sets standards for their operations and is the most important museum-accrediting institution in the country.
Perhaps curiosity and skepticism, rather than wonder, have resulted because Ciccarello, 67, who lives in Tarpon Springs, is not well-known in St. Petersburg and the Arts and Crafts movement is often misunderstood.
Ciccarello founded a successful pharmaceutical distribution company which he closed in 2013 to dedicate all of his time and energy to the construction of the museum.
"I always had an interest in art but didn't collect until I had the financial ability," he says. He saw a local furniture-maker building a bookcase in the style of Gustav Stickley and it resonated with him. "I bought the real thing in Boston," he says. "That's how it started."
The American Arts and Crafts movement has nothing to do with the generic conception of "craft" we associate with a broad range of decorative, utilitarian objects that have been made for centuries, such as baskets, quilts and pottery.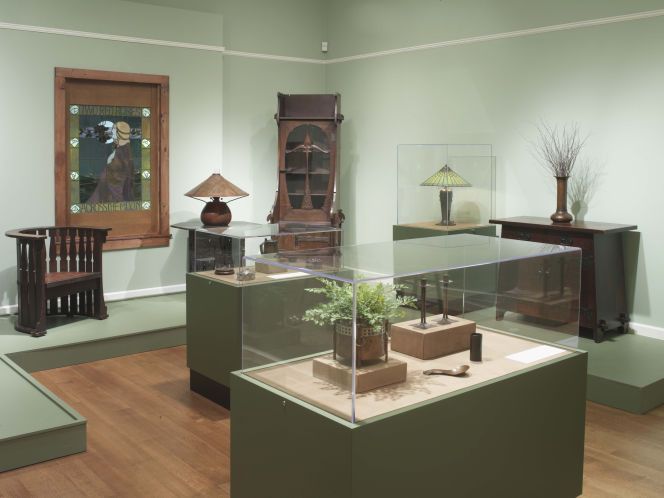 It was a focused, early 20th century design movement that emphasized simplicity and organic forms, a small-scale, collective approach to workmanship and an emphasis on hand-crafting. It was a response to the rise of mass-production, though unlike earlier European counterparts, especially in Great Britain, it wasn't as strong a repudiation of industrialization.
"The aesthetic that attracted me was the honesty, the materials, no screws or nails, the parallels and perpendiculars," Ciccarello says. "It isn't ostentatious."
He became a self-taught expert on the subject and began buying Arts and Crafts furniture in earnest in the late 1990s, adding other decorative arts such as pottery, metal works, lighting, tiles, built-ins such as fireplaces, even entire rooms, tiled walls and all. He recently began collecting early 20th century photographs from the Pictorialist movement, which countered the idea of a photograph being a straightforward record of reality by manipulating the image. Alfred Stieglitz, who founded the Photo-Secessionist group, is a well-known example.
Today, Ciccarello has about 1,300 works in the collection. He is reluctant to put a value on it; valuations on art are determined when it's sold and the art market fluctuates from year to year. But he does admit it's probably worth between $40 million and $50 million. He formed the Two Red Roses Foundation as the not-for-profit that owns it, a common practice for large private collections.
"The Two Red Roses collection is one of the most important collections of American Arts and Crafts, in all media, in private hands," says Kent Lydecker, director of the Museum of Fine Arts, St. Petersburg, who has worked at the Art Institute of Chicago and the Metropolitan Museum of Art, which have important Arts and Crafts holdings.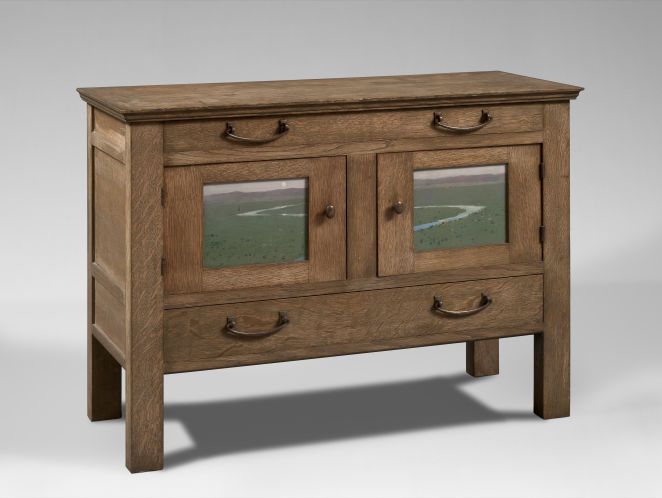 The Byrdcliffe Colony in Woodstock, NY, was a utopian community founded in 1902, inspired by the Arts and Crafts movement, in which artists and craftsmen would live and work together and be self-sufficient. They created many things, but only about 50 pieces of furniture including this oak cabinet, called a chiffonier, with bronze pulls. The Two Red Roses Foundation owns nine pieces of Byrdcliffe furniture, more than any other collection. A landscape painting on the door panels in which a river flows across both of them is by Herman Dudley Murphy, who taught at Byrdcliffe in its early years.
"I would say there's probably not a better private collection in the world," says Lynn Whitelaw, former director and now curator of the Leepa-Rattner Museum of Art in Tarpon Springs who organized two exhibitions using works from the collection and knows it well. "Rudy's a connoisseur. He has the knowledge, the eye and the resources to buy the very best and he always gets the very best expert advice, both from scholars and from the great galleries and auction houses. But he seems to be setting this up with a smart business plan, too."
Ciccarello had first chosen downtown Tampa as the site of the new museum, on city-owned land on the edge of Curtis Hixon Waterfront Park, across from the Tampa Museum of Art and the Glazer Children's Museum. The parcel is 1.2 acres and the building would have been smaller than the St. Petersburg footprint. Negotiations fell apart in late 2012 when he and the city couldn't agree on the city's financial contribution.
In the museum's next iteration, he decided to go it alone, purchasing land from the bank for about $4.8 million this year. He decided on St. Petersburg "because of its visibility as an arts destination."
Besides the galleries, the museum will house an auditorium, library, restaurant, gift shop and administrative and public areas. It will be on the Fourth Street side of the site and the garage will sit on the Third Street side.
To further dispel notions of the Museum of the American Arts and Crafts Movement being an expensive vanity project, he says he'll hire a founding director for it and is in serious talks with "a professional from a top national museum with deep knowledge of the movement. I realize that by itself it will not be diverse. I want a director who can organize special exhibitions on related art, with loans from other collections, that possibly can travel."
He has hired scholars to write catalogs of the collection.
He is not putting his name on the museum.
Because his collection is so comprehensive, he isn't buying as aggressively as he once did, though he is endowing the Two Red Roses Foundation "to continue an aggressive purchase program."
---
THE AMERICAN ARTS AND CRAFTS MOVEMENT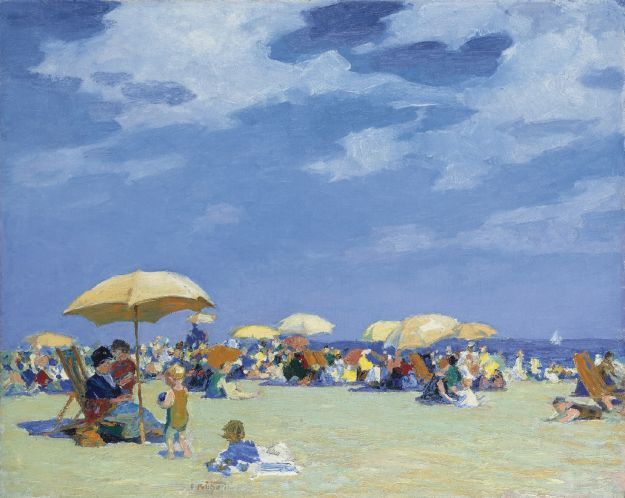 Edward Henry Potthast (1857-1927) was an important American Impressionist painter. Though he wasn't affiliated with the American Arts and Crafts movement, Potthast's career overlapped it. His sunny beach scenes, like this 1910 oil painting of Far Rockaway, were especially beloved. The Two Red Roses collection has paintings by artists that were involved in the movement such as Arthur Wesley Dow, but also a broader range that includes Childe Hassam, Maurice Prendergast, and illustrators Elizabeth Shippen Green and Jessie Wilcox Smith.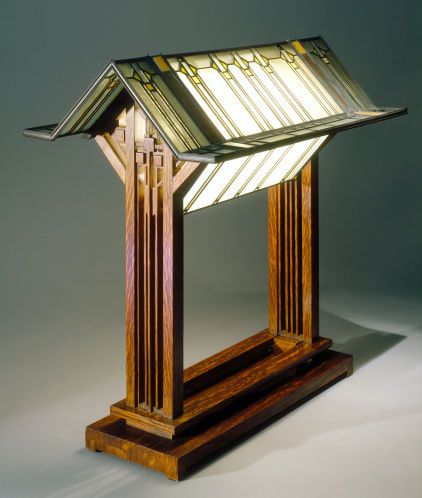 Designer George Mann Niedecken designed this lamp, probably in 1911, for a home designed by Frank Lloyd Wright for Edward P. Irving of Decatur, Ill. It is a lovely interpretation and microcosm of Prairie School architectural elements rendered in white oak, glass and copper.
The design movement began in England in the late 19th century, during the Victorian era, as a response to industrialization and poor working conditions. It promoted hand craftsmanship, simplicity of design and collaborations in small workshops based on the Medieval guild model. In the United States, the movement flourished in the early 20th century, until about 1930. The idea was to provide a complete environment that would promote harmony, so the movement produced ceramics, lighting, tiles, wallpaper, textiles, anything needed to furnish a home or office. It's bookended by the Art Nouveau and Art Deco movements that are better known today and, while each is different, there is a thread of continuity between the three.
The Two Red Roses collection that will fill the new Museum of the American Arts and Crafts Movement, has all the big names: Stickley, Grueby, Rookwood, Van Erp, for example. It has a superb collection of prints, especially wood blocks, and paintings by early 20th century Americans such as Arthur Wesley Dow and Childe Hassam. The concurrent Pictorialist photography movement is also represented by important names such as Alfred Stieglitz.
The architect Frank Lloyd Wright and artisans who created objects for his homes are part of this collection, though not in a big way, says Rudy Ciccarello, the collector who is founding the museum. Wright, though incorporating many of the Arts and Crafts design tenets, went his own way in establishing what we call today the Prairie School of architecture.
Originally printed on June 29th 2014 in the Tampa Bay Times. Written by Lennie Bennett, Times Art Critic