An American pottery record: a Frederick Hurten Rhead vase
April 3, 2007
---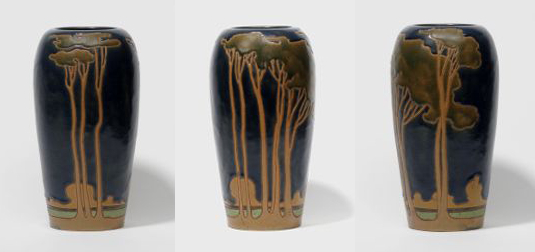 Lambertville, NJ -- A record price of $516k was paid for an American art pottery vase by Frederick Rhead at David Rago Auctions in Lambertville, N.J. on March 10th at their semi-annual sale. This price crushed the previous record of $350k for a Rookwood vase and now represents the most paid for any 20th Century American pottery piece. The purchaser was the Two Red Roses Foundation of Tarpon Springs, Florida. Estimated at $40 - $50k, the vase attracted serious collectors and museums on both coasts and in between. This was not unexpected. A masterpiece by any standard, the Rhead vase was more than a fine ceramic piece by an important artist. Painted in the artist colony of Santa Barbara, California in about 1915, it is a statement of that place and time, a Plain Air canvas capturing a Pre War California sunset. Rhead, an English potter who traveled through America for over a quarter of a century, raised the bar for design and technique both at larger firms such as Weller and Roseville, and small studios such as Arequipa and Santa Barbara. He later went on to create the now famous Fiesta ware for the Homer Laughlin China Company." The man got around," said David Rago of Rago's Auctions. "Much of what Rhead created was restricted to hands off designing, ultimately executed by line artists. This record setting vase remains among the few that are known to have been decorated by his own hand".
The buyer, Rudy Ciccarello, founder of the Two Red Roses Foundation, is an advanced collector who had already amassed a landmark collection of Period furniture, metal, lighting and ceramics by well- known Arts and Crafts masters. While not the Foundation's first studio based acquisition, the Rhead vase indicates a clear shift from the pursuit of mainstream works to those with a more esoteric and academic bent. That the vase was startling beautiful and technically perfect didn't hurt. According to Ciccarello, "More than a decade ago when I began to dream of becoming a serious Arts and Crafts collector I was greatly influenced by Leslie Greene Bowman's book entitled "American Arts and Crafts: Virtue and Design", a comprehensive catalog of the Palevsky collection. Among those works was a striking vase by Fredrick Rhead produced at University City with a stylized landscape showing glimpses of mushrooms on the forest floor. Since that time I have always wanted to add a Rhead vase of that caliber to my collection. This rare opportunity presented itself at the recent Rago's auction and I fell in love with its extraordinary beauty and iconic Arts and Crafts design. I had to have it. This vase now joins the Two Red Roses ceramic vase collection of more than 80 works. The Foundation is committed to continue its aggressive acquisition program designed to create a premier ceramic collection."
The Two Red Roses Foundation has began to work on an exhibit of its pottery collection - over eighty items - to be held at the St. Petersburg Museum of Fine Arts in St Petersburg, Florida. The pottery collection will be displayed in the Museum's new wing addition, which will be completed by the end of this year and will include the Rhead vase as well as examples of ceramic vases, bowls and plaques by Grueby, Rookwood, Newcomb College, Marblehead, Saturday Evening Girls, Walrath, Teco and the Overbeck sisters.