Clay Proves Costly At Arts and Crafts Sale
By W.A. Demers, Photos Coutesy Rago Arts Auction Center
March 20, 2007
---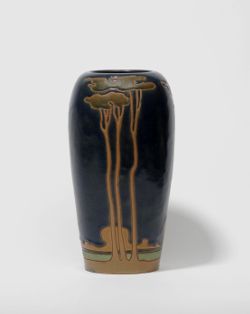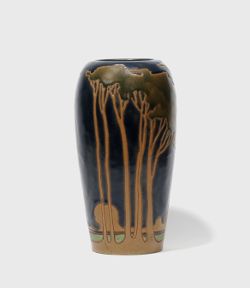 The sale's cover lot was also the top lot - the Rhead Santa Barbara vase etched with a stylized landscape, 11¼ by 6 inches, soared to $516,000, more than ten times its high presale estimate. It was purchased by Two Red Roses Foundation, Tarpon Springs, Fla.
"You broke it, you bought it." That shopworn phrase got turned around when the hammer fell and shattered a record at the Rago Arts and Auction Center Saturday, March 10. A rare vase by Frederick H. Rhead, the English "father of Fiesta ware," sold for $516,000. Made in Santa Barbara, Calif., around 1915 and decorated with a stylized landscape, the 11-inch vase sold to the Two Red Roses Foundation, Tarpon Springs, Fla., a nonprofit educational institution dedicated to the acquisition, restoration and public exhibition of important examples of furniture, pottery and tiles, lighting, textiles and fine arts from the American Arts and Crafts movement.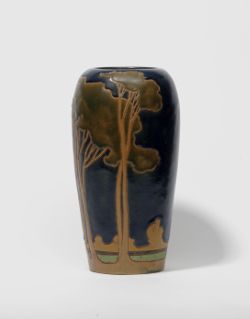 The foundation's founder and president, Florida businessman Rudy Ciccarello, was in the gallery and ultimately prevailed after dueling with a phone bidder over the vase, according to David Rago. The auctioneer said he was sure the Rhead vase will be shown in an upcoming museum exhibition at some point.
"Frederick Rhead was an incredibly talented artist," said Rago, who has previously described the ceramicist in Antiques Roadshow segments as "the Forrest Gump of American art pottery." Rago said, "Rhead's work is all over the place and he was involved in a lot of pottery. He learned his craft in England, then came to the United States and fused our decorative trends with his European tastes, creating a style that was very individual and yet universally beautiful."