Philadelphia chosen to host 2009 Art Pottery convention
January 21, 2009
---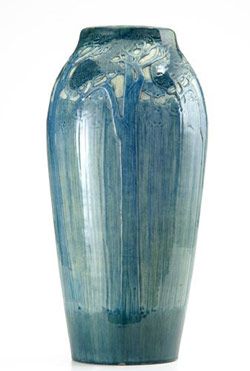 Newcomb College 1909 vase designed by Sadie Irvine. Image courtesy of Craftsman Auctions and LiveAuctionerrs Archive.
The American Art Pottery Association's 29th annual convention will return to The City of Brotherly Love on April 22-26, 2009. The event's success last year prompted a repeat visit to Philadelphia, and 2009 will feature entirely new tours, seminars, and educational exhibits, many of which highlight the Arts and Crafts movement and its pottery. The convention will again be headquartered at the Sheraton Bucks County Hotel in Langhorne, Pa., located near I-95 and Route 1. The keynote presentation at the annual reception and banquet on the evening of April 22 will be given by Dr. Martin Eidelberg, Professor Emeritus of Art History at Rutgers University and noted author on American ceramics and glass. His topic will be "Arts and Crafts Pottery: What's In A Name?" The three seminars feature an impressive roster of speakers. Suzanne Perrault, tile expert, author, Craftsman Auctions partner, and Antiques Roadshow appraiser, will discuss the tile creations of William Grueby. Prominent contemporary potters Paul Katrich (Katrich Studios), Scott Draves (Door Pottery), Eric Olsen (Common Ground Pottery), and Chris Powell (Chris Powell Pottery) will share insights about their work and the future of art pottery. Jonathan Clancy, Ph.D., lecturer in American Fine & Decorative Art at Sotheby's Institute of Art and co-author with Dr. Eidelberg of Beauty in Common Things, American Arts and Crafts Pottery from the Two Red Roses Foundation will give an overview of the Foundation's collection, its significant pieces, and research discoveries.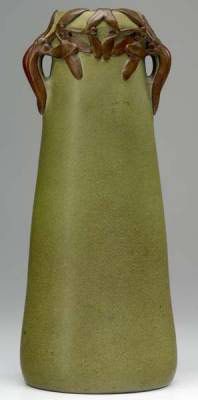 Van Briggle 1904 vase designed by Yosakichi Asano. Image courtesy Craftsman Auctions and LiveAuctioneers Archive.
The convention will also include an art pottery auction, two-day pottery show and sale, and author's book signing event. The auction, featuring several hundred lots of vintage and contemporary art pottery, will be held Friday, April 24th at 5:00 PM at the Radisson Hotel Philadelphia Northeast. The auction will be conducted by Greg Belhorn of Belhorn Auction Services, LLC.
The auction preview, reception, and book signing event will begin at 3:30 PM. Van Briggle 1904 vase designed by Yosakichi Asano. Image courtesy Craftsman Auctions and LiveAuctioneers Archive. The country's greatest two-day pottery show and sale, featuring 50 pottery dealers from throughout America, will be held at the headquarters hotel on Saturday, April 25 and Sunday, April 26. The sale will feature American and European art pottery, along with contemporary pottery. The special exhibit accompanying the show will be American Arts & Crafts pottery from the Two Red Roses Foundation collection. The event opens to convention registered members for a private viewing and sale on Saturday from 11:00 AM - 12 Noon. The show and sale will be open to the general public from Noon - 5:00 PM Saturday, and from 11:00 AM - 4:00 PM Sunday. Admission is $6.00 per person for non-convention registered members and the general public. Activities scheduled as part of the show include hourly prizes and "Booth Chats" on both days, plus a pottery ID table on Sunday. The 2009 convention will feature two tours. The Wednesday, April 22 event will be a special behind-the-scenes tour of Craftsman Farms, where the 1911 New Jersey home of turn-of-the-20th century designer Gustav Stickley, now a National Historic Landmark, has become a museum dedicated to the American Arts and Crafts movement.
The Thursday, April 23 bus tour will include a private viewing of the Gordon collection of Rookwood pottery at the Philadelphia Museum of Art. After lunch at the museum, attendees will have free time to explore the museum, featuring separate special exhibits on Cezanne, Matisse, and 20th century Japanese crafts, or walk to nearby Fairmount Park and enjoy landmarks such as the Fairmount Waterworks and Boathouse Row.