Forbes.com Piece of the Week
January 3, 2007
---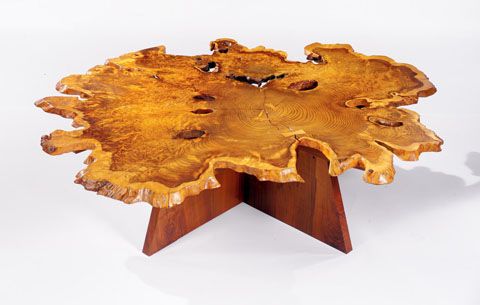 New York, NY -- On Dec. 15, Sotheby's sale of the Dr. Arthur and Evelyn Krosnick collection of masterworks by George Nakashima totaled $2.6 million, well above a $1.9 million pre-sale estimate. The American furniture maker's work saw fever pitch bidding on the New York salesroom floor.
A record price of $822,400 went to his celebrated "Arlyn" table, made of a variety of burl woods and a slice of redwood from the Muir Woods in California.
The 1988 masterpiece, which had rested in the New Jersey home of Nakashima's patrons, the Krosnicks, was seized by a determined bidder: the Two Red Roses Foundation, a private museum in Florida. The organization moved far beyond the table's pre-sale estimate of $300,000 to $500,000 in order to include the piece in its renowned American Arts and Crafts collection.